It accelerates your business. ACS cutting machine.
"the high performance, high quality, and all‐Japanese product" which we receive that the needs of the proposed type business of these days grow, and can respond not only to the conventional sample creation but to small job lot manufacturing — machine development has been tackled.
It also with standard performance high by a simple mechanism also with careful attention to ease of use and quick speed is a machine of ACS.
We were poured heart and soul to the following points. And we've completed the evolution of sample cutter.
Improvement in the durability of the cutter blade.
Machine making whitch need little maintenance.
Directly cut from CAD.
It can be any processing without tool exchange. Any material corresponding to your cut.
Completion of cracking hard borders.
The high performance and high functionality
in farm development capabilities.
We development was not the conventional cutting machine, the development of new drive system, a variety of tools that reflect the needs of the site. The high production capacity and the proposed force cutting system offers.
Maximum speed 1400mm/sec
Maximum acceleration 1.2G
Repeat accuracy 0.1mm"By the new drive system developed for increasing the acceleration and accuracy"
Smoothness of the stable board.
The stability of the head. In addition, the provision of CUT Assist function for correcting the positional deviation.
System that can freely control the depth and how to cut the cut.
Proprietary V-cut and ACC function that leads to improving packaging.
Own development of various specialized tools.Tool for forming lead rule,Borders tool such as to prevent the sheet cracking etc.
Provision of a vertical machine for space-saving.
If those who want to know more about the performance and features, so there is also the video page and list page of sample cut , Please see from the following.
The important thing is after-sales service.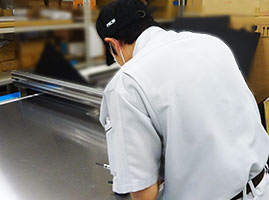 We think "true association starts after product purchase."
After-sale service is prepared so that the costomer of various countries can also be satisfied.
Software Development and Customization of machines.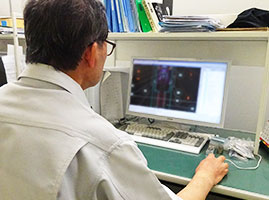 In our cutting machine it is equipped with ACS own software CUT Assist as standard.If the data type is DXF, it can be cut using this software.As we recommended other, there is also such as software "rapid cut" that can be cut using a CAD software.
If there is a request to the other, we are also possible the development of software that is tailored to customize and it's machine.
The corresponding material
Paper, cardboard, three-layer cardboard, honeycomb cardboard, paperboard, cardboard, Pradhan, plastic, aluminum, acrylic plate, foam (polyethylene-urethane, and the like), cloth other.

Industry being utilized
Cardboard, folding carton industry and chemical products industries and heavy packing industry Sign-display industry other.
The above is an estimate of the intended use to adapt. Other industry, there is also introduced in the intended use.